Joslyn Bailey a Jamaican man also known as Richard Bailey has been on the run for 22 years for a murder he allegedly committed in 1995 in Massachusetts.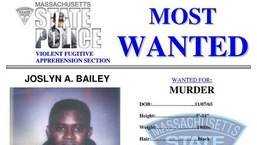 Joslyn Bailey, who is 48-year-old, was arrested in Allentown after he was stopped for a traffic violation on Interstate 78 on March 8, 2017, according to Pennsylvania State Police.
Joslyn Bailey reportedly gave the Pennsylvania traffic police a fake name on a Florida driver's license and had US$25,000 in the car when he was stopped.
After running his fingerprints on the spot it was discovered that he was wanted by the Boston Police for the slaying of 23-year-old Rolando Coxon, whose body was found on Christmas Day 1995 in Milton, Massachusetts.
According to Police reports, Rolando Coxon was fatally shot in Joslyn Bailey's former Boston home and his body was bound, wrapped and dumped behind Milton Town Hall.
Joslyn Bailey, who is currently been held without bail at Lehigh County Prison, has waived his right to an extradition hearing, clearing the way for him to be transferred to Massachusetts for a trail.
Written by Stacey Fowler